Past Activities : Health
---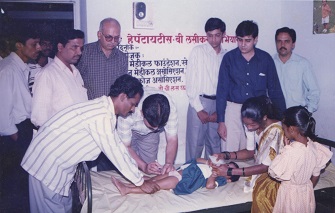 In the context of our philosophy Health & Sanitation are inextricably linked concepts. We take a preventive and proactive approach to health rather than a curative one. This means essentially that to prevent illness, we must teach self care and hygiene and improve the sanitation of villages.


Primary Health
Our team of 11 social workers has been able to provide basic health services by participating in
Drugs Revolving scheme.
This scheme is beneficial to 15,000 peoples in 11 villeges.
The Gharda Hospital
The Gharda hospital was one of the very first medical facilities available in the then isolated and remote area of Lote. It predates the Foundation having been established in 1996. It is a 20 bed hospital with a staff of 23 with 7 doctors on staff. Today it remains one of the few modern facilities serving the surrounding population.
The hospital located in Lote provides routine and critical care, performs surgeries, conducts health camps, aids awareness camps. In addition to serving the local inhabitants the hospital also maintains and staffs a mobile dispensary which goes out to the surrounding villages to provide care to the sick and to help them on issues such as vaccinations, family planning, prevention of communicable disease, etc.
In conjunction with the Government the hospital regularly performs cataract surgery, artificial limb replacements and medical examination camps free of charge for rural residents.
he hospital was recently designated as a Primary care sub center and given funding to provide health care in the Lote area. Our task will be to reduce infant mortality, increase the use of contraception and educate and reduce the incidence and transference of AIDS.
Some Milestones
The foundation has concentrated on providing health services and health education in the village development sites. We have achieved major success with the visits of a Mobile Medical Van which conducts health camps and weekly visits to the remotest of villages of Chiplun which do not have access to any medical aid. There are some villages, which do not have a Medical Practitioner and have to travel for 2-3 hrs to the nearest dispensary. We have set up a Public Health Center at Bharan in Gujarat with trained health workers who provide subsidized medical treatment.
The Gharda Hospital at Lote is a fully equipped hospital providing medical care to the areas of Chiplun and Lote and subsidized treatment to the villagers. The Hospital has been instrumental in conducting many health camps, eye surgery camps and AIDS awareness camps in surrounding villages. We have achieved significant success in our Women Education programs, for e.g. the ABHA program has been very successful in all our village sites as we have successfully trained women and educated them in health related issues. It has helped them to be self reliant and taught them prevention and cure of minor illnesses.
Past Health Activities : Ankaleshwar
---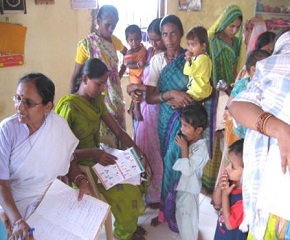 1. National AIDS Control Program
Under the National AIDS Control program we are one of the Targeted Intervention partners in Gujarat state AIDS Control Society, since year 2003 we are working with most vulnerable group of truckers and commercial sex workers of the NH:8 at Ankleshwar and Bharuch area. At present we are covering core composite group of FSW (Female Sex Worker) and MSM (Men Having Sex with Men). We are providing following services to targeted population,
1. Counseling for HIV/AIDS and RTI/STI.
2. RTI/STI Treatment.
3. Condom promotion.
4. Behaviour Change Communication.
2.Reproductive & Child Health (RCH) :
We are one of the FNGO (Field NGO) of Mother NGO program of health and family welfare department of Guajrat state; we are implementing this program at under served area Ankleshwar industrial labour colony and tribel villages. We are providing following services to 15000 population of project area.
1. Early registration of expected mothers.
2. Complete ANC of mothers.
3. RTI/STI Management.
4. Adolescent Health Services.
5. Family Planning Services.
6. Village level counselling.
7. Total immunisation of 0 to 5 age group.
Due to this project we reduce MMR (Mother Mortality Rate) and IMR (Infant Mortality Rate) up to 80%.
3. Ayurvedic Health Camp :
In coordination with Bharuch District Ayurvedic Department we had organized Taluka level Aurtvedic checkup and awareness camp at Rotory hall Ankleshwar we received huge participation from the local as well surrounding village population.